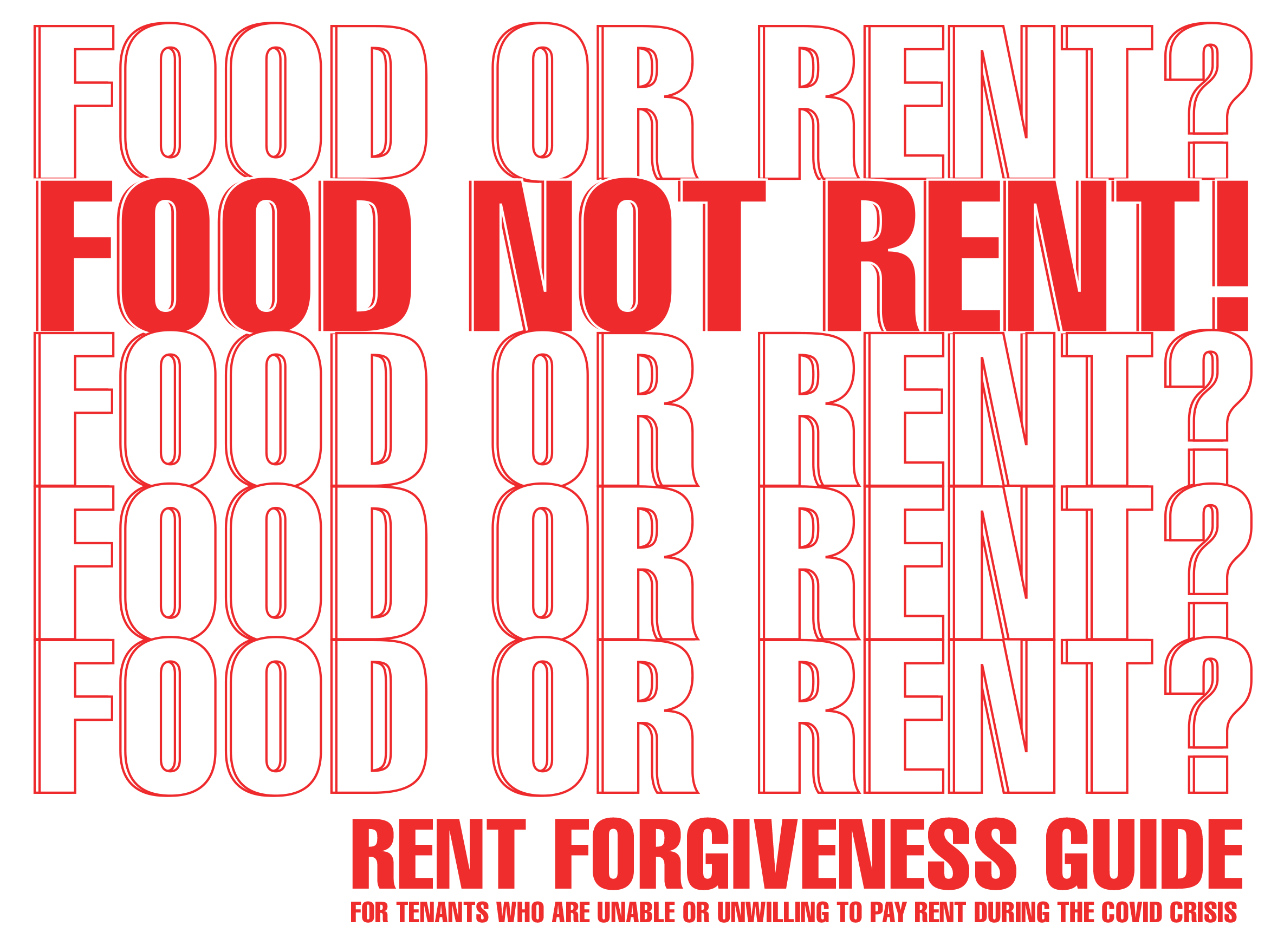 HOW TO USE THIS GUIDE
Can you pay rent on July 1st? What about August? Where will you get the money to pay for food, medications, necessities? What about your neighbors, your family, your friends? How long will this crisis last? Choose food. Choose medications. Choose your future. Choose your community. Those who can't pay, won't; those who can pay, don't. Join the rent strike. Keep your rent.
We do not know how long we will be out of work and confined to our homes. Federal and state governments have not and will not provide the resources we need to survive. Save your rent money for basic necessities, food and medications. Support your neighbors who have no choice. We need whatever money we have. You can't eat the rent.
Below is a step-by-step guide to protecting yourself while not paying rent during the COVID crisis. Included below is a letter to send to your landlord, notifying them that you will not be paying your rent, as well as instructions on how to join the L.A. Tenants Union, so that you will be joined with hundreds of tenants across LA. You are not alone. By joining a city-wide rent strike, we build power to demand the cancellation of rent and to collectively bargain with our landlords and lawmakers. If we organize, tenants can build power that will last beyond this crisis and win a just housing system for all.
Share this guide with your family, your friends, and your neighbors: foodnotrent.org
STEP 1
JOIN LATU: WE WIN WHEN WE ARE MANY
The LA Tenants Union is an autonomous, member-funded union which fights for the human right to housing. From our five years of organizing tenants against displacement and landlord harassment, with rent strikes, direct action, and media campaigns, we know there is strength in numbers. One of us is easier to evict than all of us.
We win when we're many. Not paying rent is an action many of us are forced to take during this crisis. When others in our buildings withhold their rent check in solidarity with us, we build tenant power. When we withhold our checks and use our collective power to demand rent cancellation and collective bargaining, we're on a rent strike. That power grows when we join a union, who will support us and have our backs throughout our fight. LATU's twelve local chapters will be fighting for a cancellation of all rent debt accrued during this crisis for as long as it takes. Click here to get involved with your local LATU chapter.
You have a constitutional right to organize in your building and your community. If you organize with LATU, you will not face harassment, eviction, unsafe conditions, or any housing struggle alone. Your union is behind you!
STEP 2
SEND THE LATU LETTER OF NONPAYMENT TO YOUR LANDLORD AND LATU LOCAL REP
EVERY MONTH

YOU CANNOT PAY RENT

Fill out and send this letter to your landlord. Make a copy so that you have documentation that the letter was sent.

Contact and send a copy to your local chapter of the L.A. Tenants Union. Find your local here.

Forward a copy to your representatives in LA's City Council, so they are aware of your situation and the situation of tenants across LA. Your LATU local can forward the letter for you, or you can find out who your City Council rep is at here.

Send the letter of nonpayment for each month that you cannot pay your rent.
STEP 3
MAKE A SIGN OR BANNER FOR YOUR BUILDING. SHARE THE RENT STRIKE IMAGE ON SOCIAL MEDIA. #FOODNOTRENT #JoinLATU #CANCELRENT
As a participant in this collective rent strike for Food Not Rent, it's in your self-interest to have more people involved! Make a sign and put it in your window or a banner on your building saying Food Not Rent – Join the Rent Strike – Cancel Rents! Post it on social media with the hashtags #FoodNotRent #JoinLATU #CantEatTheRent.
Make sure neighbors know they are not alone, make sure landlords know they are not owed rent money we can't earn, and make sure politicians know our demands.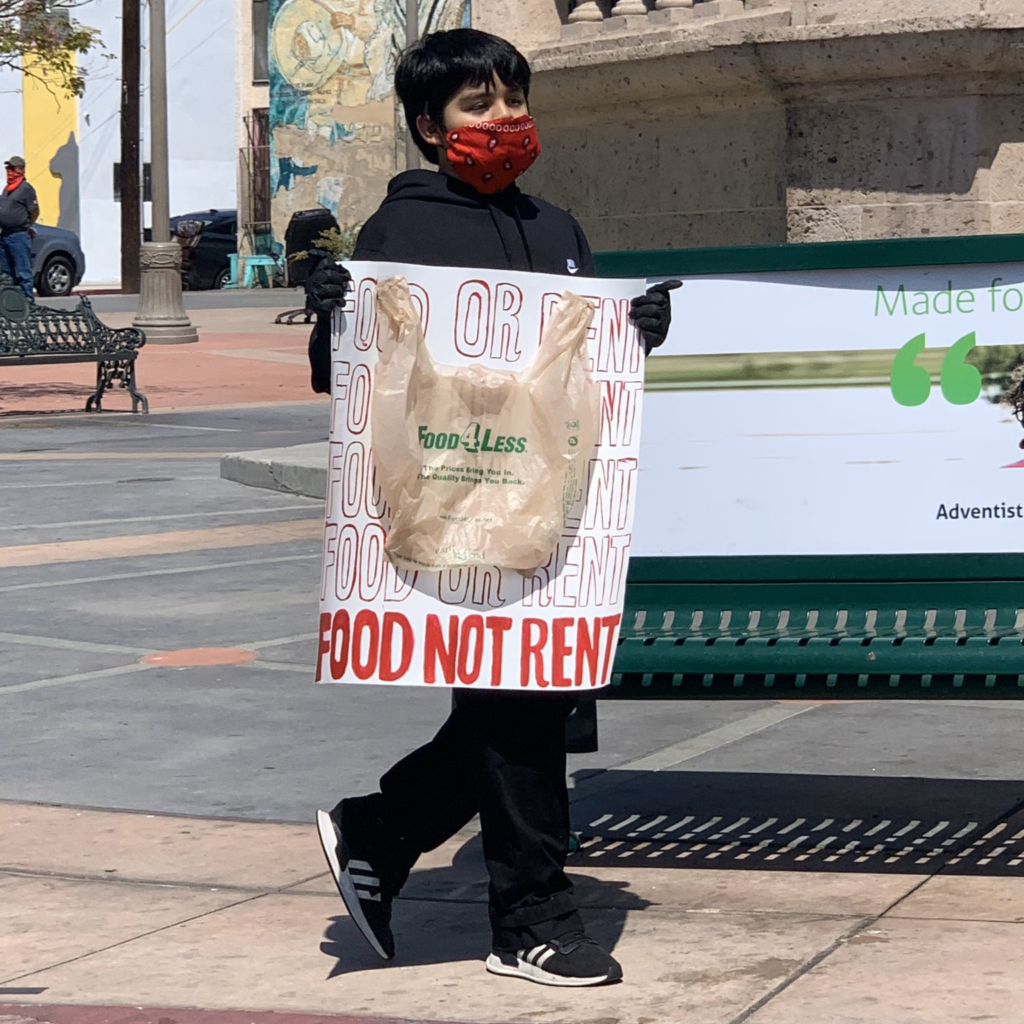 STEP 4
NOTIFY YOUR LOCAL CHAPTER AND ATTEND A MEETING
Notify your local LA Tenants Union chapter that you have sent a letter of nonpayment to your landlord. Local chapters are there to bring tenants together, provide support and up-to-date information, provide a space to gather in these uncertain times, and a means to strategize winning the cancellation of rents and the right to collectively bargain with our landlords. You can find your local chapter here.
To keep our members safe, LATU local meetings are being held over ZOOM for the duration of the crisis. You can join a meeting by computer or phone. Just follow the link on the website above to see the schedule for local meetings and click the ZOOM link.
STEP 5
ORGANIZE YOUR NEIGHBORS, FAMILY, AND FRIENDS. TELL THEM YOU ARE CHOOSING FOOD NOT RENT.
ASK THEM IF THEY WANT TO DO THE SAME THING, AND CONNECT THEM WITH THE LA TENANTS UNION.