Donate to the #FoodNotRent Solidarity Fund
$103,434
of
$100,000
raised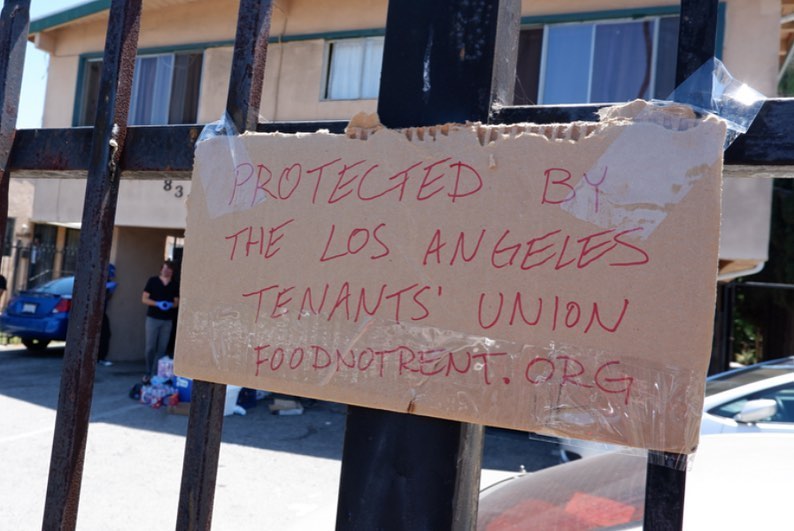 Now more than ever, we need to prioritize our collective wellbeing over landlords' profits.
Tenants in Los Angeles — the majority of us Black and POC — are being forced to choose between paying our rent and buying food, medication, and other basic necessities.
Since April 1st, members of the Los Angeles Tenants Union (LATU) have invited every tenant in LA to join in choosing #FoodNotRent and demanding that the city government cancel rent for the duration of the COVID-19 crisis.
Your contribution to the #FoodNotRent Solidarity Fund will be dispersed directly and entirely to LATU members on rent strike who request financial support for food and basic necessities.
More aid and protection from LATU means that more tenants will join the strike. More tenant participation amplifies our demands for rent cancellation and makes our landlords less likely to retaliate against or evict us.
Your support means urgent relief for our most vulnerable members — especially those who are targeted for eviction because of their race, language, or immigration status. It's also an investment in the future of our communities and our movement for the human right to housing for all.
We have the opportunity to transform our current isolation and vulnerability into collective power that we can use toward our long-term goals: universal rent control, community-controlled public housing, self-organized safety, and the end of speculative real estate.
With your solidarity, we can do it!